Call for Price
NEW LISTING!
NEW 2016 ISUZU NPR HD BOX VAN TRUCK FOR SALE IN LANDOVER, MD
CENTRAL TRUCK CENTER
3839 IRONWOOD PL LANDOVER, MD 20785
www.centraltruckcenter.com
(800) 653-6314
ISUZU NPR HD DESCRIPTION
This is a New 2016 Isuzu NPR-HD (NF354) S/A 16' Van Truck w/ 150 Wheelbase, 5.2L Isuzu Diesel @ 215 HP, Aisin A465 6spd Automatic Transmission w/ Overdrive, 6,830# Front axle, 14,550# Rear axle w/ 4.56 ratio, 14,500# GVW, Spring Suspension, PS, AC, Exhaust Engine Brake, Power windows & locking system, tilt & telescopic steering wheel, AM-FM CD Stereo, 2 Man Passenger Seat, Fire Exting & Triangle Kit, Rear Body light switch, Back up alarm, Engine Shutdown system, 215/85R16 Tires on Steel Budds, This chassis is equipped with a 16' Morgan Aluminum Van Body w/ Roll-up rear door, 80 Door opening, 96 Wide, 87 Interior Height, Hardwood floor, Plywood Lined w/ 4 D-Rings on each side, 2,000# Maxon Tuck-a-way Hydraulic Lift-gate, Nice truck...Ready to go to work!!!
ISUZU NPR HD BOX VAN TRUCK SPECS
| | |
| --- | --- |
| Year | 2016 |
| Make / Model | ISUZU NPR HD BOX VAN TRUCK |
| Price | Call for Price |
| TNT ID | 336414 |
| Stock Num | TP7090 |
| VIN Num | JALC4W168G7001176 |
| Mileage | 133 |
| Engine | Isuzu, 5.2L Diesel @ 215 HP, 215 HP |
| Fuel | Diesel |
| Transmission | Automatic |
| Drive Options | Overdrive |
| Rear | 4.56 |
| Axles | Single, 5,360 Front / 9,880 Rear |
| Suspension | Spring |
| Wheelbase | 150 |
| Tires | 215/85R16 |
| Interior Height | 87 |
| Exterior | 96 "W, 16 'L |
| Color | White Exterior |
Truck
SIMILAR BOX VAN TRUCKS FROM CENTRAL TRUCK CENTER
Call for Price
2016
Call for Price
2016
Call for Price
2007
Call for Price
2007
SIMILAR BOX VAN TRUCKS FROM OTHER TNT DEALERS
$19,900
2006
$8,500
1999
$14,500
2007
Call for Price
2007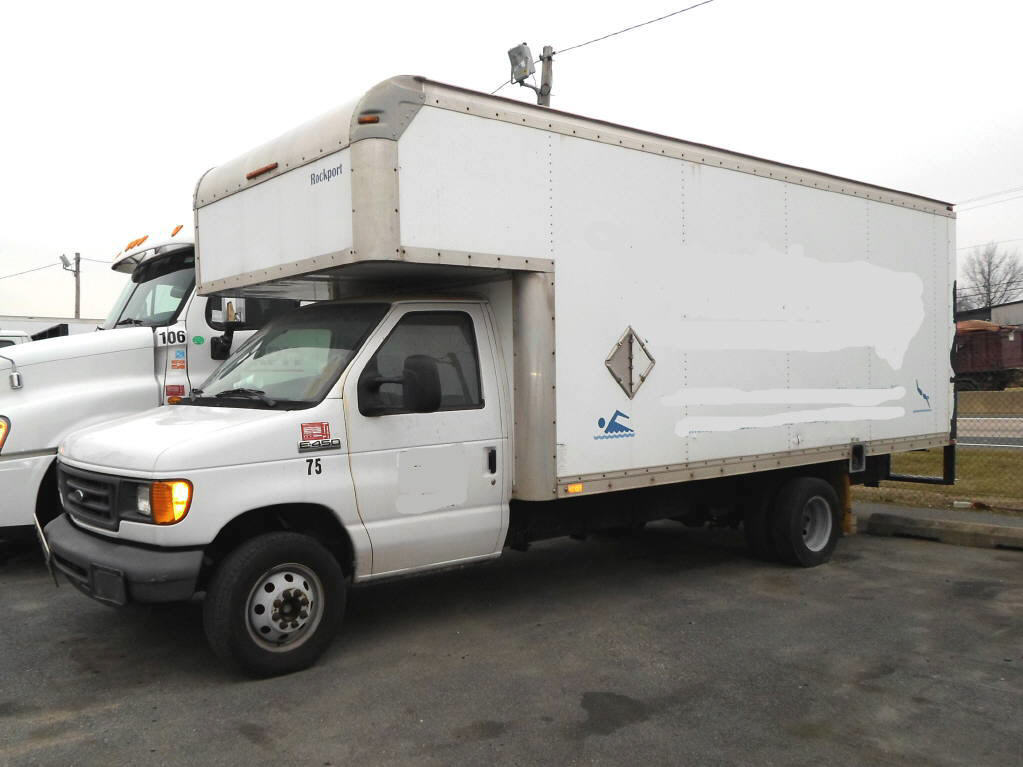 Call for Price
2006
$7,500
1996